Sawhorse Protective Feet Kit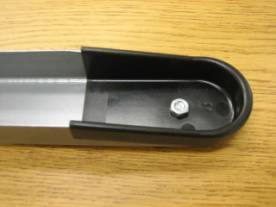 If you use your folding steel sawhorses inside and would like some floor protection, we offer these Heavy-Duty Plastic feet that can be attached to any EBCO made sawhorse. This kit includes 4 feet and the screws and nuts to attach them. You would only have to drill 4 holes (1 in each leg) to attach these.
Part# SS-Foot
(These Feet fit all EBCO Folding Steel sawhorses, and M.D Brands)
---
Installation Instructions for SS-29 Sawhorse Plastic Feet.
Item List
4 pieces Plastic Foot
4 pieces Phillips Head Screws
4 pieces Hex nut
Place foot on inside of sawhorse leg (should fit exact) mark hole with marker, do this on all four legs. Drill 13/64" (drill bit not included) hole in all four place as marked. Place each foot in place and install and tighten bolts with hex nuts.